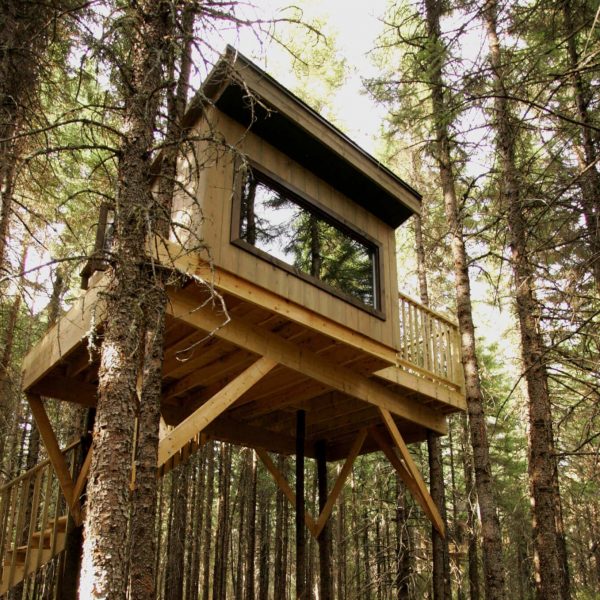 The cabanitas are intended to be a hybrid between the campsite and a refuge and will appeal as much to the most cozy as to the true wood campers! You enter the interior squatting like in a tent but will stay dry on a rainy day. The magnificent view of the forest will gently awaken you and you will enjoy a large terrace at the top of the trees with table, chairs, counter and retractable roof to enjoy good bad weather. You have access to the common building for the kitchen, the toilet block and the living room.
Information
From $85 / night (price for 2 persons)

Maximum 2 people

Minimum of 2 nights on weekends and 3 nights on long weekends
Double bed
Cushions (can be used as a pillow ... bring your pillowcases)
Hooks & shelfs
Terrace
Table and chairs
Counter
Roof with retractable canvas
Hammock (under the cabin)
The common kitchen is open! Please respect the public health measures in effect.  
A space is set up on the terrace for cooking if you want to bring your camping equipment in order to be more independent.
What to bring
Bedding, blanket or sleeping bag (rent here $ 15)
Pillows or pillowcases (there are cushions on site)
Food
Cooler (we sell ice at our BoutiK)
Bath towel
Toiletry bag
Headlamp or flashlight 
Water bottle (water is drinkable) Please do not bring a plastic bottle ... Let's be green!
Swimsuit
Mosquito repellent
Water shoes (to play in the river)

You can bring your luggage in a plastic bin to leave it outside to take up less space
Do not forget that the nights are cold in the north!
If you wish to make Chinese fondue (in the common area), you must bring the appliance and use gel and non-liquid fuel or better, an electric stove.
Prepare your stay
Buy carbon credits to offset your trip (do it here)
Bring your food in reusable dishes
Make your bulk groceries
Buy local
Avoid plastic water bottle and single-use item
Once there
Sort your waste by putting what is recycled for recycling
Put your food in the compost¸
Read our tips and tricks
Practice No Trace
Visit our BoutiK to get a variety of green items
We have the power to change our daily lives and thus make a difference… One step at a time !
Self-service arrival
Arrive at 2 p.m. on site (no time limit for arrivals)
The cabins are ready at maximum 4 p.m
Take the welcome note at your name in the self-service cabin
If there's no note = cabin not ready
2 carts or sledges for your luggage
Trails of Cabins (8 minutes walk)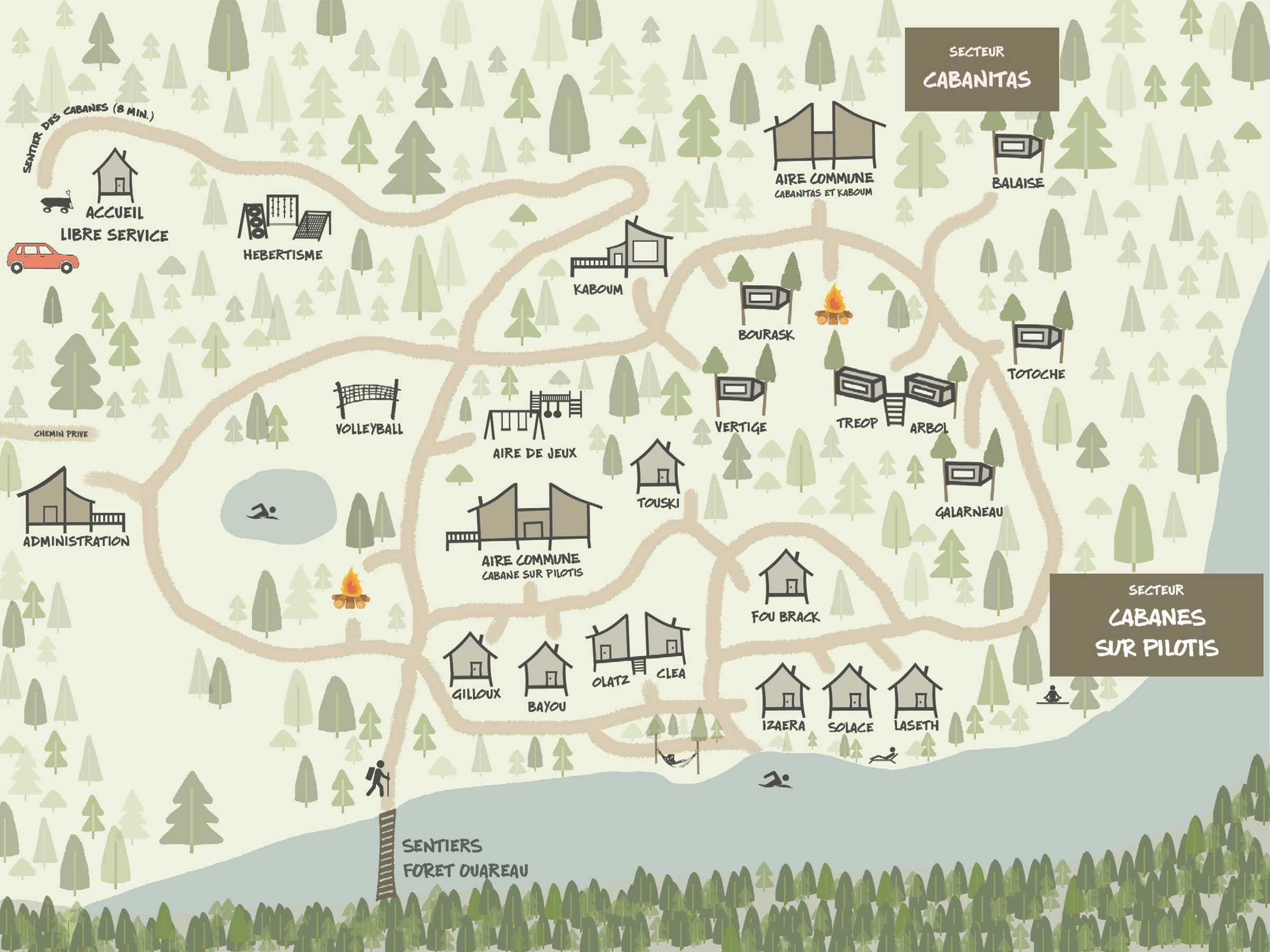 Note that the sanitary block and the fully equipped kitchen are located in the common area.
KITCHEN / SANITARY BLOC / LIVING ROOM / FIRE AREA
The Cabanitas are open from May (depending on temperature) and close after Thanksgiving in October.
You don't have acces to the common building of the Cabins on stilts.
Note that you need to bring a cooler for your food because there is no fridge on the spot.
Know that we love animals but because of the proximity and common areas we had to make the decision not to accept them.
We suggest 2 good pensions located  10 minutes from Kabania.
Animal Inn Actors 819.424.5001 (10 minutes by car)
Family day care / Brigitte 819.325.2511 (3 minutes walk)