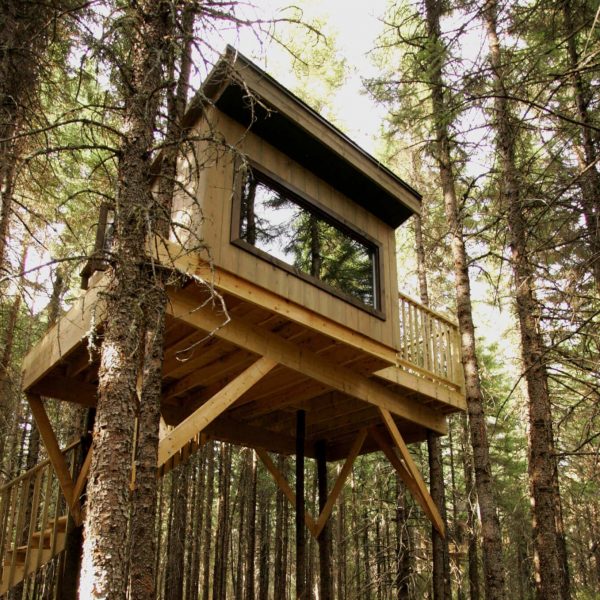 Les cabanitas se veulent un hybride entre le camping et un refuge et plaira autant aux plus douillets qu'aux vrais campeurs des bois! Vous entrez à l'intérieur accroupi comme dans une tente mais resterez bien au sac par jour de pluie. La magnifique vue sur forêt vous réveillera en douceur et vous profiterez d'une grande terrasse à la cime des arbres avec table, chaises, comptoir et toit rétractable pour en profiter beau temps mauvais temps. Vous avez accès au bâtiment commun pour la cuisine, le bloc sanitaire et la salle de séjour.
Informations
82$ / nuit (prix pour 2 personnes)
Maximum 2 personnes
Minimum de 2 nuits les weekends et 3 nuits les longs weekends
Double bed
Cushions (can be used as a pillow ... bring your pillowcases)
Hooks & shelfs
Terrace
Table and chairs
Counter
Roof with retractable canvas
Hammock (under the cabin)
Bedding, blanket or sleeping bag (rental here)
Pillow or pillowcase (there are cushions on the spot)
Food and cooler (ice bag on sale here $ 3)
Propane stove and gaz cylinder (if you want to cook on your terrace)
Headlamp, flashlight or lantern (no light in the cabin)
Bath towel
Toiletry bag
Warm clothes (for cold nights)
Swimsuit
Water bottle (water is drinkable) Please do not bring a plastic bottle ... Let's be green!
Water shoes (optional)
Mosquito repellent especially from the end of May until the end of June
(on sale here)
If you wish to make Chinese fondue in the common building, you must bring your appliance and use GEL fuel (not liquid) or an electric stove with an extension.
You can bring your luggage in a plastic bin so you can leave it outside to take up less space.
Prepare your stay
Buy carbon credits to offset your trip (do it here)
Bring your food in reusable dishes
Make your bulk groceries
Buy local
Avoid plastic water bottle and single-use item
Once there
Sort your waste by putting what is recycled for recycling
Put your food in the compost¸
Read our tips and tricks
Practice No Trace
Visit our mini boutique to get green items
We have the power to change our daily lives and thus make a difference… One step at a time !
Self-service arrival
Arrive at 2 p.m. on site (no time limit for arrivals)
The cabins are ready at maximum 4 p.m
Take the welcome note at your name in the self-service cabin
If there's no note = cabin not ready
2 carts or sledges for your luggage
Trails of Cabins (8 minutes walk)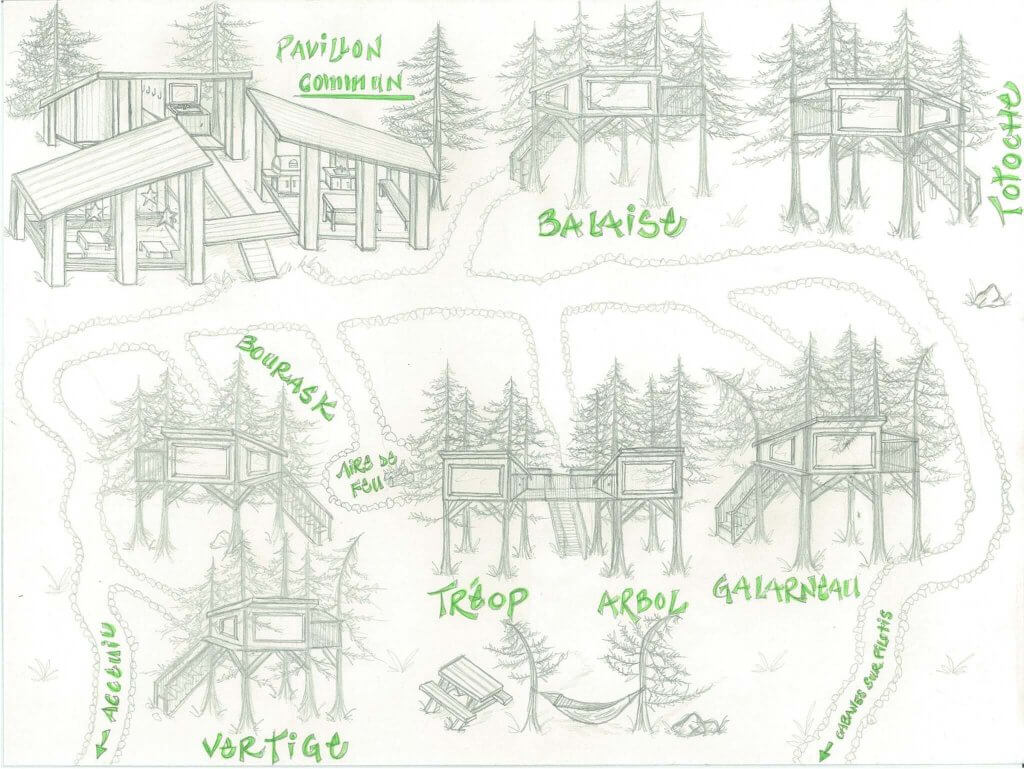 Note that the sanitary block and the fully equipped kitchen are located in the common area.
The Cabanitas are open from May (depending on temperature) and close after Thanksgiving in October.
You don't have acces to the common building of the Cabins on stilts.
Note that you need to bring a cooler for your food because there is no fridge on the spot.
Know that we love animals but because of the proximity and common areas we had to make the decision not to accept them.
We suggest 2 good pensions located  10 minutes from Kabania for $ 20 a day.
Animal Inn Actors 819.424.5001 (10 minutes by car)
Family day care / Brigitte 819.325.2511 (3 minutes walk)